Quando si tenta di disinstallare un software si potrebbe ricevere il seguente messaggio di errore:
The Windows Installer Service could not be accessed.
This can occur if you are running Windows in safe
mode, or if the Windows Installer is not correctly
installed. Contact your support personnel for assistance.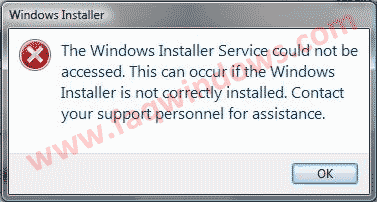 dopo aver chiuso questa finestra, la disinstallazione non viene portata a termine.
Il problema puo' essere risolto nel seguente modo (testato su Windows 7 x64):
Avviare Regedit
cercare la chiave HKEY_LOCAL_MACHINE \ SYSTEM \ CurrentControlSet \ Services \ MSIServer
A destra doppio click su WOW64.
cambiare il settaggio da 1 a 0.
Chiudere Regedit
Start
Win+R
Scrivere "services.msc" (senza virgolette) seguito da invio
premere il tasto W
doppio click su Windows Installer service
Stopparlo e riavviarlo
Chiudere Servizi
Adesso dovrebbe essere possibile disinstallare i software 🙂
Altri siti propongono di Installare nuovamente Windows Installer, oppure avviare il Prompt dei comandi con diritti amministrativi, quindi digitare msiexec.exe /unregister seguito da invio e msiexec /regserver seguito da invio.
Hope this helps,
Captain