Quando si fa click con il pulsante destro sul desktop, o su una cartella si riceve il seguente errore:
Runtime error!
Program: C:\Windows\explorer.exe
This application has requested the Runtime to terminate it in an unusual way.
Please contact the application's support team for more information.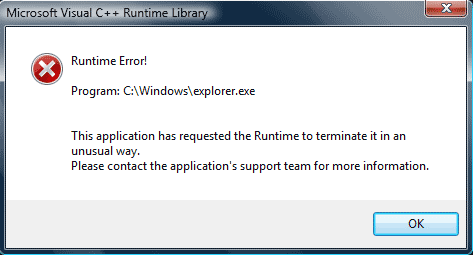 Cliccando su OK il desktop si riaggiorna, ma rimane comunque impossibile fare click con il pulsante destro sul Desktop!!!
Cercando su Internet per la (non) soluzione del problema si trova di tutto:
Usare tools di terze parti per verificare nel sistema la presenza di eventuali spyware e/o trojan;
Utilizzo di HijackThis;
Disinstallre tutto quanto sembra superfluo (inclusa la toolbar di Google)
Disinstallato il SP1 e tutti gli aggiornamenti automatici installati
Eseguire sfc /scannow
Aggiornamento delle librerie visual C++ (microsoft visual C++ 2005 e 2008 redistributable)
Supponendo che
si ha un antivirus installato ed aggiornato
non si hanno problemi di trojan e spyware di alcun tipo
per la risoluzione del problema abbiamo riscontrato che l'errore è dovuto all'installazione di driver (non Microsoft) della scheda video. Non appena rimossi i driver in questione (Nvidia su un portatile e Intel su un'altro) il problema è scomparso.