Se si installa una qualsaisi applicazione "CS3" di Adobe, automaticamente si installa un servizio dal nome:
##Id_String1.6844F930_1628_4223_B5CC_5BB94B879762##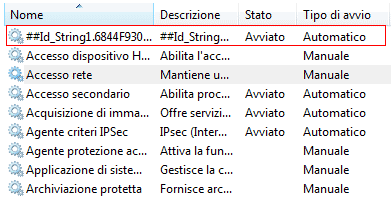 in più viene creata una cartella in C:\Program Files dal nome Bonjour il cui contenuto è mDNSResponder.exe e mdnsNSP.dll.

Per rimuovere Bonjour:
Apriamo il Prompt con diritti amministrativi e scriviamo:"C:\Program Files\Bonjour\mDNSResponder.exe" -remove seguito da Invio
Avviamo Explorer e ci spostiamo nella cartellaC:\Program Files\Bonjour
Rinominiamo il file mdnsNSP.dll in mdnsNSP.old
Riavviamo il computer
Eliminiamo la cartella Program Files\Bonjour.
Dal sito adobe si legge: Removing Bonjour prevents Version Cue clients (Photoshop, Illustrator, InDesign, Flash, Bridge) from automatically discovering Version Cue Servers and Version Cue projects in your local network. You will need to connect manually using Connect to Server and the URL or IP address of the machine running Version Cue Server instead.